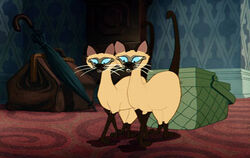 The Siamese Cat Song
is a song from
Lady and the Tramp
sung by
Si and Am
, the two Siamese cats owned by
Aunt Sarah
. The cats sing the song when
Lady
first meets them; and during it, the two cats cause much destruction in the house which ends up on Lady's head. The cats are voiced by Peggy Lee, who recorded her voice two times to get the effect of two cats singing in this song.
Si and Am: We are Siamese if you please.
We are Siamese if you don't please.
Now we lookin' over our new domicile.
If we like we stay for maybe quite a while.
Lady: *Bark* *Bark* *Bark* *Bark* *Bark* *Bark**Bark*
Si: Do you seeing that thing swimming round and round?
Am: Yesss. Maybe we can reaching in and make it drown.
Si: If we sneaking up upon it carefully
Am: There will be a head for you, a tail for me.
Baby: Waaaaahhh!
Si: Do you hear what I hear?
Am: A baby cry?
Where we finding baby there be milk nearby.
Si and Am: If we look in baby buggy there could be
Si: Plenty milk for you and also some for me.
"The Siamese Cat Song" is one of very few villain songs to be performed on the Disneymania series. It is sung by Haylie and Hilary Duff on the second volume and B5 on the fifth.