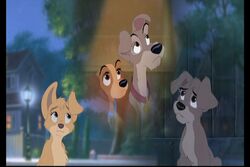 Always There is a song featured in Lady and the Tramp II: Scamp's Adventure. It is performed by Roger Bart as Scamp, Susan Egan as Angel, Jeff Bennett as Tramp, and Jodi Benson as Lady. Scamp realizes the importance of family and how much he misses his home. Angel's wish for a family, and Lady and Tramp's grief over Scamp's decision are also highlighted.
Scamp:
Always there
To warm you in the winter
Always there
With shelter from the rain
Always there
To catch you when you're falling
Always there to stand you up again
Family...
Angel:
By your side
In seconds if you ask it
Arms out wide
To welcome you to stay
Near enough
To listen to your heart's song
Always there to help you on your way
Family
Scamp:
Family
Both:
Family
Tramp:
What is a family?
Caring and devoted hearts
Lady:
With endless love to share

Lady and Tramp:
Love that will follow you everywhere
Scamp:
Always there
To welcome you in winter

Angel:
What is a family?
Tramp:
Arms out wide
To welcome you to stay
Scamp:
Right by your side
Angel:
Near enough
Scamp and Angel:
To listen to your heart's song
Tramp:
Always there to help you on your way
Family
Angel:
Always there
Scamp:
Family
Lady:
Family
All:
Family